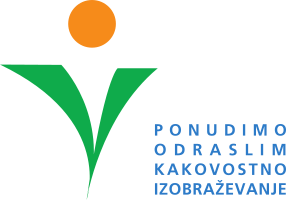 At MOCIS, we are aware that high-quality educational and consulting services and the satisfaction of participants and employees are crucial for the success of the institution.
We have been committed to quality policy since 2005, when we joined the project We offer adults quality education – POKI, developed by the Andragoški Center of Slovenia.
Care for quality and participant satisfaction have become our main drivers, so even after the end of the POKI project, we continue with a comprehensive quality management and monitoring system, as dictated by trends in adult education.
We want to provide our training programme participants, employees and external collaborators with the best possible working conditions and their personal and professional growth. We are committed to this by our vision, mission and values and by our charter and quality statement.
VISION is geared towards achieving the goals set. By going beyond the results of our work, we will become the most recognisable and professional adult education institution in the koroška region and also at national level.
THE MISSION of our institute is to introduce modern educational content and approaches in the implementation of various forms of formal and informal lifelong learning. We want to give people in koroška region a better job and a better quality of life. To our participants, professionals and business partners we offer the opportunity to co-create quality education.
THE VALUES of our employees are as follows:
development,
professionalism,
quality and
respect for each individual.
THE QUALITY BOARD
Systematic quality will be ensured by the Quality Board in 2022/23. The Quality Board shall consist of a chairman and at least five members appointed from among the professional staff of the Institute, representatives of employers and representatives of participants. The task of the Commission is to monitor and assess the quality of work and to issue a report at the end of the year.
Members of the Quality Board for the academic year 2022/23:
Kristina Navotnik

, organizer of adult education – president

Urška Novak Lešnik

, organizer of adult education – member

Janja Bartelj

, organizer of adult education – member

Simona Štruc

, mentor in the program PUM-O – member

Petra Novak

, external employee of the institute

Irena Danica Pijovnik

, employers representative – public sector

Lucija Franc Knez

, employers representative – sector of the economy

Marija Obreza

, representative of the participants

The Quality Board shall operate in accordance with the Rules of Procedure on the composition, mandate and operation of the Quality Board of MOCIS, Centre for Adult Education.